Virginia has a lot of marathons I could run, but the one that was the most popular and stood out as being the most run was the Yuengling Shamrock Marathon in Virginia Beach in mid-March. My friend J. was planning on running it in 2013 and I suggested we go together and make a girl's weekend out of it; she was definitely up for it.
In the time between Rehoboth and Shamrock some changes had happened in our lives, the main one being that Chris' cancer had returned and we decided to completely overhaul our dietary lifestyle in order to help combat the growth. This meant that for Shamrock, I would be bringing all of my own meals, from snacks to dinners packed in Tupperware. I was so used to stops at Wendy's for my baked potato and Frosty fix, candy-filled McFlurries from McDonald's, and burgers and fries from Five Guys. This time around, I packed all of my own meals rather than grab fast food all weekend. It was a complete change from every single race I've ever run. I had to wonder if, in the end, my race performance would be hindered or improved by clean eating?
We headed down Friday afternoon to Virginia and hit the expo within an hour of it closing, which was ample time to explore the expo a little bit before heading to our hotel. J. was running the Whale Challenge that weekend, which involved running the 8k race on Saturday and the full marathon on Sunday, so we had to get there Friday in order to pick up our packets. While I considered running the Whale Challenge, I wasn't too keen on the price tag. While not Disney caliper in cost, I didn't think it was worth $50 just for a finisher pin.
Saturday I woke up bright and early to cheer on J. as she ran the 8k. It was an overcast day and the weather wasn't ideal, but everyone was in good spirits. The racecourse was a sea of costumes and green to commemorate St. Patrick's Day weekend, and part of me wished I could be running it too; it DID look like a really fun time. As I waited for J. to finish I actually got to chat with a husband and wife that were also 50-staters (and they had completed the circuit more than once already!) and we swapped stories about races we had run and recommendations for states I hadn't completed.  J. finished the race soon after we parted ways, and I was thrilled to see she had a great finish time, and even received a VERY nice finisher's medal! I was definitely envious of that, and think I actually would have run the race if I had known that the swag was more than a pin.
The remainder of the day the weather was very hit or miss; not long after my friend's finish, it began to rain…a lot. The beach weekend we had been looking forward to was definitely being marred by Mother Nature. While the temps were in the 50's (climbing into the high 60's), windy and rainy, Sunday's forecast looked even more foreboding with a high in the mid-40's. Definitely a huge change from the year before, where as you may recall I ran the Rock 'N Roll D.C. Marathon (the same weekend as Shamrock) and it was sunny and in the 70's.
The night before the race I had my first ever meal that didn't consist of pizza and French fries. Yes, I totally strayed from tradition (going against EVERYTHING experienced runners warn about with marathons, never try anything new race weekend), and had gluten-free penne with grilled veggies, tofu, and arugula pesto, as well as homemade gluten-free bread and olive oil. It was pretty amazing, and I hoped that it would serve me well as the fuel I needed to complete this race successfully.  I was so used to overloading on sugar and junk food, so this was definitely a 180 from my usual carb loading. And, for the first time ever, I was using Honey Stinger gels instead of Gu on the racecourse, and made sure to avoid all of the Gatorade stops and only grab cups of water. I wanted to do my very best to stick to this (refined) sugar free diet, even during marathons, as a way of showing support to Chris.
With the weather changing so abruptly all weekend, I wasn't even sure how to dress for this one. My Marathon maniac singlet was a bit small for layering with long sleeves underneath, so I had to get creative on the fly. I made arm warmers out of rainbow striped, Hello Kitty knee socks, which worked out perfectly (and were extra cute). I made sure I had a headband that could cover my ears in case of wind, and my calf compression sleeves helped with warmth.  I also had a patch that J. had given me to wear on my singlet to commemorate how much I despised cancer. Besides uncensoring it I can't think of any better way to put it, can you?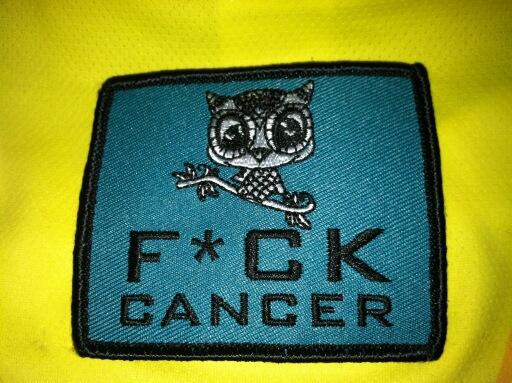 I also made this sign to honor Chris: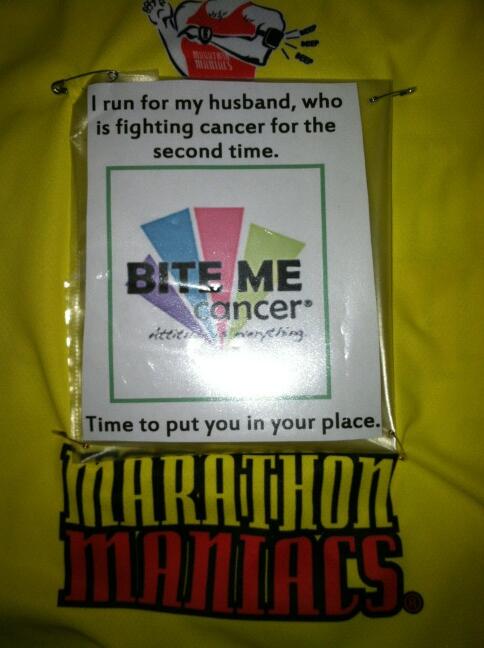 The morning of the race, J. and I took our time getting to the start since the race started at 8:30 AM and we were mere blocks from the start line. It was blustery and very chilly, with wind chill factors around 35 degrees. We shivered and made our way to the start, but definitely felt like it was going to be a really rough race.  J., who is an amazingly strong superwoman, was running the race in a fully loaded ruck, and she was bundled a little better than I was, but no matter how many layers we wore, the winds cut right through them.
I passed a group of Marathon Maniacs in their bright yellow singlets, and they motioned me over and happily introduced themselves and welcomed me with enthusiastic handshakes, lamenting that I had just missed the group photo. This was my very first event as a Maniac, but I must say, they are an amazing and positive group of individuals! I was so proud that I could finally be a part of their team.
The start line was one block parallel to the Boardwalk, so while windy we had a little protection from the winds with the hotels that lined Atlantic Avenue. The skies were heavy and grey with clouds and I think we all said a little prayer to ourselves that it wouldn't rain. I was feeling pretty emotional that morning, standing alone and thinking of Chris. It was really, really difficult for me to leave him at home, but he insisted I run this race and kick some butt. Knowing he would be proud of me for completing this marathon was just the motivation I needed to run strong.
The race started and we were on our way. The wind was kicking and definitely made it a very tough go. The crowds were cheering us on, and I did my best to smile and enjoy the race. Much of the first half of the racecourse was just like the Rock 'N Roll Virginia Beach Half Marathon I ran in 2009, so much of it was very familiar to me. The course was pancake flat with only 2 hills in the same spot, which was a small bridge crossing. The "hill" was a piece of cake and laughable at best. After conquering Hatfield-McCoy in one piece, I can't take claims of "hills" on a course too seriously! That is, until I run Montana in September of 2013.
Miles passed and I noticed something fun. Marathon Maniacs are much like team members of Team in Training! If they see a Maniac singlet they clap and cheer for you, give a high five, and sometimes just give a smile and a nod of recognition without a word. But regardless, the Maniacs all lifted one another up with their enthusiasm, and I realized I could get used to this! The positive vibe was just incredible, and I was so glad to be part of such a fun group.
The race, I found, wasn't as interesting and scenic as others I had run in years past, and the wind and cold made it a fairly miserable experience all around. Very few miles were with the wind at our back, and we had to keep pushing against it. The miles along the boardwalk were especially brutal, and felt as if they were around 20 mph with a chilly bite. You simply had to lower your head and charge against it, and anticipate that eventually you would be making a left-hand turn off the boardwalk and find some shelter from the gusts. I will say that fighting the wind absolutely exhausted me, and ultimately wore me out from a strong finish.
The out and back sections made it a little more fun, fellow Maniacs would shout out encouragement and cheers and I would reply with a whoop and holler. It was always fun to try to spot them. I even ran alongside fellow Maniacs during the race at different points and they were nice as could be, one even said she would be at the marathon in Anne Arbor, Mich., so I'm hoping I can look for her when I get there in June. At one point I approached a group of Maniacs on an out and back and they took my picture a few times for posterity, even saying "This is Rebecca's first marathon as a Maniac." Wow, way to make me feel welcome everyone! There was even one section of the course where I had to stop and tighten my left shoe that was too loosely tied (for a good 16 miles, not too smart), and a Maniac in passing slowed down to ask "You OK there Maniac?". I assured him I was, and he was insistent that I reassure him before continuing on. I'll tell you, Maniacs are definitely the type that would sacrifice their finish time to help another runner in need.
Some hiccups happened along the race, one being a much needed pit stop. Imagine the horror when, out of a row of 5 porta-jons, not a single one had a shred of toilet paper left. Talk about mortifying. I must have wasted a couple minutes going from stall to stall to find SOMETHING but to no avail. I gritted my teeth in frustration and just headed back out there, completely exasperated. The main issue was that the half marathon started an hour and a half before the full, so any porta-jons were already decimated. I was surprised to see that a lot of halfers were still on the course at this point, but I admired their determination.
At this point, too, I don't think the race could have ended sooner. I was done with it, and really wasn't enjoying myself. The wind and cold, as well as the miles of concrete were just taking their toll on my performance. I could tell I wasn't the only one, plenty of others seemed whipped by the conditions. I was losing morale fast. A few times, though, I had people pass me and comment on my F*ck Cancer patch, all giving me a positive boost of encouragement and even a high five or two. One girl in particular stood out, and the funny thing was we actually followed each other on Twitter and she recognized me on the racecourse after the fact! I had to thank her for her encouragement, because I really needed it then. So Jennifer, THANK YOU!
The finish line loomed as we approached the boardwalk area and the wind whipped me harshly. All I could think of at that moment was Chris, and I just burst into tears. I was going to make it, he was going to be proud of me, and we were going to be together soon. I did everything I could to have a strong finish, aching hips and all, and finished in 4:17. It was my slowest finish time in a year and a half.
I hobbled to get my medal and finisher's hat (both awesome, by the way), and we got an even better surprise, which could NOT have come on a better day: a fleece finisher's blanket! I wrapped it around me tightly as I went back to the hotel to grab a quick shower, bite to eat, and check on J's progress via text tracking.
Waiting at the finish line was brutal, and I held out as long as I could, but the gusting wind and damp cold just chilled me more than I could stand. I was shivering uncontrollably as I waited for her, and did my best to clap and cheer for the other finishers. I finally had to go back inside and waited in the hotel lobby to warm up and wait for that final text notification that she had finished.  She did great,  and to this day I applaud her for enduring those conditions with such a heavy ruck on her back. She's amazing. Once we found each other, we went into the finish line tent and relaxed where it was free from the wind and cold, and much more comfortable! Irish stew and beer flowed freely and runners congregated in groups chatting about the morning's event.
J. and I both agreed that we did not like this race. I do feel if the conditions were better I would have enjoyed it a little more, but I also enjoy courses that have some off-road miles and have a more natural setting. I know of some runners who state Shamrock is their favorite race and they run it every year. Others who ran it this year actually PR'd. I had pretty much the opposite effect on all counts, I was fairly miserable and it took me hours to get warm, even after taking the hottest shower I could stand.
The rest of the day that had so much promise for some fun beach time just ended like a cold, miserable day in March should, huddled in the hotel room and watching reality TV and refueling with plenty of food. In the end, it wasn't a bad thing to relax and stay warm, and it was actually a nice way to end the evening, even if indoors.
My experience at Shamrock had its ups and downs, but race certainly didn't dampen my spirits to run my next marathon. You will always have one that stands out as the disappointment, but I had plenty of good memories as well. The main thing I learned was that as a Marathon Maniac, I'll always have a friend on the racecourse.
Results
Finish Time: 4:17:51
Total Place: 1391/2995
Gender Place: 439/1294
Division Place: 73/208
What I Learned
Like a Boy Scout, I must without a doubt always be prepared for the next race. The lack of toilet paper on the course won't catch me off guard next time, and I will forever more always carry a pack of tissues with me to bar any disaster.
At first I questioned my clean eating as hindering my performance, perhaps it wasn't sugar-fueled enough. But after some reading and thinking, I realized that the wind and porta-jon fiasco slowed me down quite a bit, and there was nothing I could have done to combat nature. In the end, I think I excelled as best I could, and will do better next time.


I am FINALLY caught up on race recaps and can finally focus on the present! And not a moment too soon, my next marathon is approaching fast, with the Cox Rhode Races Marathon in Providence Rhode Island on May 12. Wish me luck as I tackle State #11, Marathon #14!