Rhode Island was the next state I was to run in my 2013 race calendar. The historic city of Providence was easy enough to get to by train for a quick weekend, and during a good time of year for a race. Rhode Island has a mere handful of races, and with Newport being in October, one of the busier marathon months, I decided to run the spring race in mid-May.
I tend to do something runners call "weather-stalking" the week before a race, sort of keeping an eye on the forecast to see how the weekend would pan out. The forecast looked grim, 60% chance of rain, thunderstorms, and high winds. There was no chance I was going to bail out on this race, the train tickets were paid for, and I had already deferred the race from 2012. I wanted to finally get this state under my belt for good, so if I had to run in the rain, so be it. I also had been suffering from pretty terrible sinus headaches that I tend to get during overcast, rainy and windy days due to air pressure, and nothing can usually stop them from happening and no amount of rest, caffeine, and OTC pain relief can stop it. It just has to run its course. I had a feeling it was going to be a rough weekend if the weather didn't improve!
The Cox Rhode Races marathon took place on Mother's Day, and I felt awful knowing I was going to be away and unable to see my mom. I decided to dedicate this race to her, and made a sign to wear during the race. I decided to laminate it to keep it dry, and would give it to her next time I saw her. Yup, even back then I was ornery and full of fire, but my mom looks so beautiful and happy in this picture. Even looking at it now brings me a lot of joy.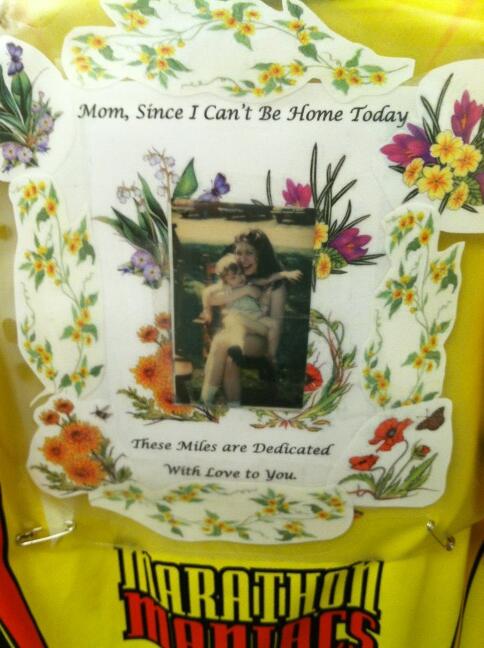 I also got a brand new F*ck Cancer patch for my Maniac singlet, which was pretty darned cute.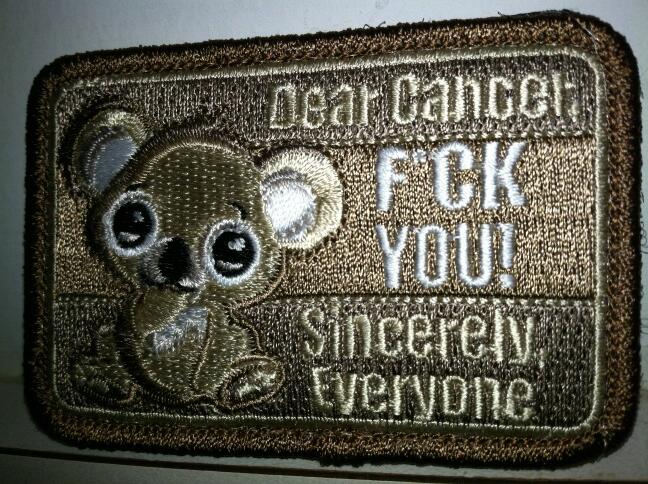 In order to maximize my time in Providence, I decided we would head down overnight on Amtrak. D. was again my travel partner in crime, and Chris dropped us off at the station around 11:30 at night for the overnight train. Long story short, the ride was pretty horrible, very little sleep was had, and we arrived at 7 AM feeling pretty exhausted and worn out from a long and uncomfortable night. Luckily we didn't have much of a walk to get from the station to the hotel to drop off our bags.
The hotel, the Providence Biltmore, was very accommodating to our super early check-in, which was a very nice surprise after an extremely harrowing and annoying night. We managed to have breakfast in the room and get cleaned up, and since we were fairly wired, we figured we would enjoy what we could while the weather stayed dry. The clouds were very overcast and winds were picking up, but it was still warm. We walked around historic Providence and then took a bus to the Roger Williams Zoo, which was a real treat for us. The zoo wasn't crowded, the animals were happy to pose for pics, and we had a great time. Right as we were ready to leave, the rain and 20+ mph winds started, and didn't let up at all for the rest of the afternoon.
Seemed like a good time to go to the expo for packet pick-up, so we braved the elements and trudged through the rain (luckily we had umbrellas) to the Omni hotel to grab my race bib and shirt. The expo was fairly small but nice. I had to laugh when asked what size shirt I wanted; when I replied "The smallest one you have" the best they could do was a medium. *sigh* It looked like it would fit Chris better than me (almost fit like a nightshirt!), but I have to take what I could get.
At the expo, I got motioned over by a vendor on my way out. I'll be honest, I don't like getting roped into buying things at expos, but Brenda at RooSport totally sold me on her product. It was a pouch that was clipped to your running shorts via a powerful magnet that could fit gels, keys and even a cell phone; for $20 I will say it was one of the best running purchases I ever made, and happily will endorse this product with zero prodding from them. I ran the race with the RooSport the next day and NEVER even knew it was there. With belts I often had chafing, they never fit my waist without lots of adjusting and shifting, and I often even got scratched from the foil gel packet corners when they were inserted into the belt loops. But with the RooSport I had none of those issues, and ran the race with ease.
Back at the hotel we attempted to crash, but to no avail for me. I am a super light sleeper, and the walls of the historic Biltmore were paper thin. Doors constantly opened and closed, conversations could be heard in the hallway, and  I even ( yes this is true) heard someone PEEING in the room next to us. *sigh* I slept maybe an hour and a half. D. was much luckier and slept much better than I did, it might have helped that the bed was SUPER comfy.
I was happy to see that there was a PF Chang's right by the hotel, and have had excellent luck with them in the past with gluten-free meals. Their servers have been very, very knowledgeable about their gluten-free  menu, and have been very accommodating to do what they can to make meat-filled meals vegetarian for me. My experience that night was very good, with no gluten mishaps, and I felt fairly well carb-loaded for Sunday's race as I tried to get to sleep that night.
Race morning
Rain, rain and more rain. Overcast skies. No sun in sight. That was what greeted me as I opened the curtains to check the race start area. I still had a headache and felt very out of sorts with having gotten so little sleep. I had a feeling this race would be fairly disastrous.
By the time we left the hotel to walk to the start, the rain had eased.  The most noticeable thing about this race over any other, and with good reason, was the increased police presence around the start area. Police, dogs, and fully decked out officers with semi-automatic weapons quietly patrolled the area. I was a little taken aback, but knew the reason. It was a mere month ago that the finish line of the Boston marathon was bombed, and Providence was less than an hour away. I was glad to see that they took the slightest possibility of a threat seriously. In fact, here is a news story all about the increased security: http://www.wgbhnews.org/post/providence-marathon-runs-undeterred-terrorism-fears
I found the 9:00 minute mile corral and managed to jump in minutes before the start.  And right as the race was about to start, the showers started up again. *sigh* It was going to be a long morning. We started the race and carefully rain the streets that were slick with fresh rain. The streets were very pitted and full of holes and puddles, so I felt as if half the time I was looking more at my feet than at the crowd and the course. The thing I noticed immediately when we started the race was how incredibly achy my muscles felt. The first three miles my legs (especially my hamstrings) just burned. I don't think I was dehydrated by any means, but had walked quite a bit yesterday (and Providence is a fairly hilly city); that, combined with severe lack of sleep, were likely contributing factors.
Eventually the burning in my legs ceased once I got warmed up, and the miles passed with ease. I kept a fairly steady 9:20 pace throughout the first half. I wanted to ensure an easy recovery for my next race that was in four weeks, so I didn't want to attack this course with everything I had.
Providence has some very hilly streets, almost San Francisco-caliper, but the race more or less exited the downtown area by the State House and headed south where the hills were a little more kind. Yes, there were definitely hills, but nothing as steep as some of those hills by Benefit Street!   The unfortunate thing about this race is that it didn't go past some of the more historical sections of Providence, and wasn't especially scenic. Sure there were sections that were very lush and green, other sections went along the water where we saw boats in the harbor, but many miles were simply commercial or residential. That being said, it was still an enjoyable race simply because the participants were really a great group.
I met a few Maniacs and 50-staters along the way, and one of the most memorable runners was a 14-year old girl named Natalie. I saw she came to a walk around mile 16, and would kick back into gear with a run, and went back and forth between intervals. Another runner talked to her to encourage her, and we marveled at how young she was and how determined she was to finish. I ran alongside her for a while and she asked me some questions about marathons, told me about her training program, and I was just really impressed by how well she was doing. When all was said and done I had to check her results….the little spitfire finished just a few minutes after me. She definitely is made of that steel that only can be defined by completing a marathon and I wouldn't be surprised if I saw her again at a race. Natalie, you ROCK.
Another runner, I never got her name, ran past around Mile 19 and shouted out "Tattooed girls run faster! Keep it up girl!" and I saw she had a half sleeve tattoo.  We passed each other back and forth in the final miles and she kept shouting out encouragement to me, which to this day still makes me smile. In fact, I saw a guy later on the course with a sleeve and shouted out the same encouragement and it made him break out into a grin. Tattooed runners united!
In the final miles of the race I ran alongside a Massachusetts native named Bridget. We kept pace for a long time together, talked about races we had run. She was running her 13th marathon, and was actually a spectator at Boston and told me of her experience. None of her friends were hurt that day, thankfully, but it was still sobering to listen to her tale. She was easy-going and very friendly, and really helped the miles pass with ease.
This race I noticed that I felt pretty good throughout; I had a hand-held water bottle and could breeze through all the stops.  I did stop twice to ask if I could fill my bottle, and the volunteers were happy to allow me to help myself.  It seemed like they actually appreciated my extra effort to carry my own water. Toward the end of the race there were a few nasty steep hills that forced me to a walk, but only for maybe 30-45 seconds. Another plus was that I had been taking much needed supplements for iron, B12 and D; my last visit to the GI specialist (a week or so after Shamrock) included a review of my bloodwork where some of the numbers were dismal, so I think supplementing those essential vitamins helped substantially as well.
I don't think I ever hit the wall, I never felt like quitting, and never hated the experience. A complete turnaround from Shamrock, and my finish time was proof that despite the hills and conditions, I performed much better this time around.
Crossing the finish line for my fourteenth marathon was a great feeling. I loved the medal and felt a wonderful sense of accomplishment.
The one downside was that the finish line spread was a gluten-lover's paradise: boxes and boxes of fresh pizza and bagels awaited the finishers, but I was fortunate to see a huge box of bananas. Don't mind if I do…*yoink*. I did "cheat" on my no-sugar rule that day and have a Gatorade; my body was covered in salt, despite my efforts to maintain hydration, and I needed to replenish those nutrients and electrolytes STAT.
The banana was about all I could handle until we were able to get lunch late that afternoon. While I would have loved a nap, my stomach was throwing a temper tantrum, growling incessantly.  Thank goodness an UNO's Chicago Grill was nearby, where I got a cheese-free gluten-free pizza piled high with veggies, salad and plenty of Woodchuck Cider.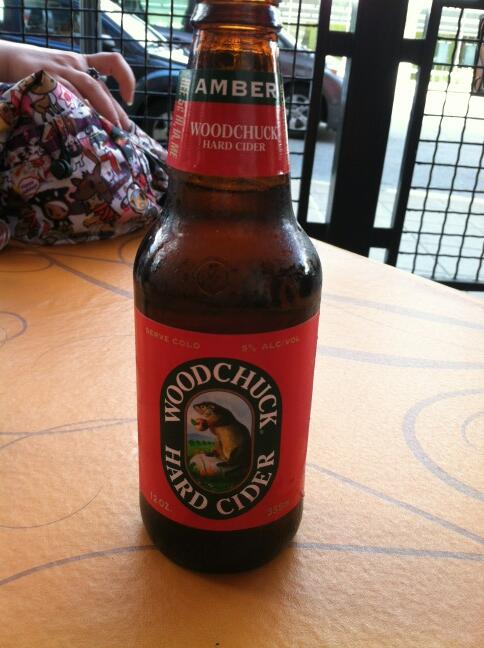 It was a wonderful way to relax and enjoy the afternoon as the skies cleared and a breeze kicked out the humidity.  Since we were heading home that night on a late train, we had the Biltmore hold our bags and went to see a movie; we decided to check out Jurassic park in 3D. I wanted to make sure I picked a movie that, if I fell asleep during, I wouldn't regret missing! It was definitely a lot of fun.
Race Results
Finish Time: 4:10:56
Overall Place: 618/1267
Sex Place: 240/616
Division Place: 77/186
Before I know it, my next state to conquer will be arriving, by running the Ann Arbor Marathon in Michigan. My first week of recovery proved to be successful and I already feel strong enough to tackle another marathon. It's a good feeling to know I have this kind of drive within me.
Next stop: Ann Arbor June 9, 2013!