Years ago I remember the state I was most apprehensive to run a marathon was Colorado, mainly due to the elevation; never once did I assume Montana would be a difficult state and I looked forward to the challenge. The marathon I ultimately chose, the Two Bear Marathon, had so many appealing things, how could it possibly end in disaster? Oooh, it's a really scenic race! Scenery is totally my thing. Awesome, 16 miles are on trails! I love running on trails! Elevation is only  3200-3800? I did pretty well in Colorado, and it was twice the elevation. Hills? Please. I did my second-best time running Hatfield-McCoy. Piece of cake.
Never again will I underestimate a race like this. Years ago I ran a 15k on technical trails and I found it to be incredibly difficult. My usual 8:30-9-minute mile was crushed and I finished in over 2 hours. I was third from dead last. It was a very humbling experience. I wasn't even angry or humiliated, I was just relieved that I finished without twisting an ankle.
Multiply that experience by three, and you have Two Bear in a nutshell.
Two Bear was by far the smallest and most beautiful, picturesque race I have ever run. There were less than 100 full marathoners, and it was in the outskirts of Northwest Montana in the small resort town of Whitefish, a mere 20 miles from Glacier National Park, one of the most scenic national parks in the country. I knew it would be one for the books, and I couldn't wait to experience it.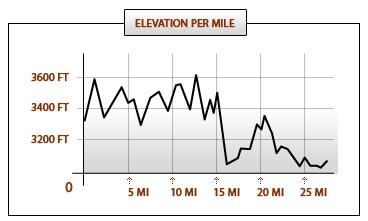 The elevation chart alone speaks volumes of the level of difficulty of this race, at least for a seasoned road runner like myself. The first 16 miles are on winding, technical trail, a lot of single track, although some of it was on wide, flat logging roads. Absolutely gorgeous scenery, but unfortunately you spend a majority of time looking at the ground to ensure your step isn't misplaced and you unceremoniously stumble your way into an injury.
I will preface this recap by saying that my camera died very early in the race, and any pictures I managed to take weren't great. So I am sad to say I don't have too many photos to capture the essence of Two Bear!
The morning of the race we were bussed up to the starting area before sunrise, the air was crisp and cool and the runners were all quite friendly. I even met some Maniacs in the start congregation area, Maniacs whose numbers were in the triple digits (whereas I'm 6301); yup, I felt like QUITE the newbie, but they didn't bat an eyelash over that sort of thing.
The start was literally a bright orange line spray painted on the ground, and the race director made some brief announcements, mainly reviewing what to expect during the trail section. She warned for us NOT to pass on the section of trail that was along a steep cliff wall. This generated nervous laughter from some of us, some wide-eyed glances from others. I started feeling this sense of dread. All I kept thinking to myself, because I am a pillar of confidence, is Oh man, please don't let me finish last.  The gentleman at the start line popped off a prop pistol to start the race and we were on our way. No chance of backing out now!
The first mile or so is uphill, and I felt it almost immediately. My lungs burned from the thinner atmosphere and I had a hard time adjusting to it, as we had been in Montana for less than a day and a half.  The trails were easy to navigate and not overly rocky at first, and allowed room for runners to find their groove. As the trail section continued, some of the sections were narrow and twisty, sometimes with switchbacks as you climbed uphill. My legs burned and I was already feeling well worn-out by mile 8 or 9. I was aware of the single track not allowing much room for passing, and I constantly made sure I was aware of runners on my tail; I stopped often to allow people to pass and they always passed with thanks and a bright word of encouragement. I never, ever wanted to hold up traffic because of my inexperience. I needed to stay in the slow lane and swallow my pride.
The scenery was unlike anything I ever experienced during a race. Any moment you could have easily snapped a picture and it would have been suitable for a glossy running magazine photo. The air was clean and crisp and the aspens were changing with the season. The woods were fragrant with the deep scent of pine (I was reminded of the Disney ride "Soarin" when they spray the pine smell as you "glide" over the California Redwoods…it really was that strong) and the trails ran alongside gorgeous and colorful cliff-sides; there were breathtaking views atop hills of beautiful Beaver Lake, and birds called pleasantly as the sun peeked through tree branches. There were many, many times where I was completely alone on the trail and it was almost like a magical cinematic moment. The woods were deep and vast, it was almost frightening how small I felt and how easily nature could swallow you whole if you took a wrong turn. Luckily the course was well-marked and side-trails were roped off with bright orange tape or a volunteer directing which way to turn, otherwise it would have been easy to get lost for hours and not see a single soul.
At water stops, I allowed myself some time to catch my breath, fill my water bottle and talk with the other runners and volunteers. I can easily say that time was definitely not a factor, I knew I would be running a possible personal worst that day, and let myself have fun rather than get huffy and upset over numbers.  I think I probably wasted a good ten to fifteen minutes at stops, and it was worth it to get a second (or ninth) wind. I underestimated how difficult the hills would be, not to mention the trail sections were quite rocky and difficult to traverse at times. I found myself accidentally kicking my right ankle quite often (and to this day I still have a scab from it) and as the miles passed and I grew more and more fatigued. I stumbled a lot in the final trail miles due to pure exhaustion. I never completely fell, but I had quite a few close calls, pinwheeling my arms for balance and yelping out in surprise. I must have been one of the luckier ones, as I saw a blood-soaked paper towel on the course and other runners with bloodied knees. I stubbed my toes quite often, wincing in pain, but made sure I kept moving. My quads absolutely ached and my right knee started sharply barking at me at around the halfway point, likely from all of the lateral movement and changes in elevation. Never in my life had I experienced such difficult conditions for a marathon. I think if it were a half I would have had the energy to finish somewhat strong, but a full definitely kicked my butt pretty badly. So, I must say to all of the trail/ultra-runners out there, I salute you in proper AC/DC fashion.
The elevation chart shows a very steep downhill around Mile 15. It was so steep and my legs were practically jelly by this point, so I carefully walked it, my muscles burning from trying to find my footing and stay upright. I never in my life felt so out of shape, so challenged. It had taken me close to three hours to run (if you could call it that) 14 miles, and I am usually at Mile 20 by around this time. It was just unlike any race I had ever run, and I didn't bother to practice on the super technical trails back home. While I ran trails often, they were much more user-friendly than the ones Two Bear had to offer.
At the end of the downhill we suddenly hit pavement and the stupid part of my brain muttered in relief "Oh Thank God, something I can work with here". Ugh. Not sure WHY I assumed the last ten miles would be a way to catch up on my horrible pace. Transitioning from trail to pavement was an absolute shock on the system, and my right knee was extremely aggravated. The first few miles I managed to keep a decent pace, carry conversation, and it felt as if I was actually running a regular race again. Sure I was exhausted, by Mile 16 I felt like I had run the full marathon already, and slowly ran out of steam by Mile 19.
There were several factors that made the last ten miles difficult. One was that the road portion was in full sun with zero shade, and Montana was experiencing warmer than average temperatures for that weekend. While it was only in the mid-70's, the cloudless sky absolutely sapped any energy I had left. Second, half of the miles (15-20) were entirely uphill. Why not, right? Third, I constantly found myself going back and forth between shoulders on the roads that weren't closed to traffic. It was scary to see a Jeep barreling around a sharp corner with probably no idea we were in the road, so I did my best to adjust my gait to the camber and keep my eyes open for vehicles.  While I know as a runner you are supposed to run against traffic, with the sharp corners I felt much safer running with traffic because I knew they would at least be able to see me from a distance. Lastly, my knee was furious with me and there was no placating it. It forced me to walk a LOT in the final miles.
I don't think I ever walked more in a marathon in my life, and felt pretty annoyed and frustrated when I was walking at MILE 25. For God's SAKE! Mile 25?!?!? By then I am just so ready to be DONE I bolt in the last 1.2 miles just to cross the finish line! Instead I was walking and shuffling like I had just run 100 miles. I hadn't had knee issues like this in years, but I imagine it was due to the beating I took on the trail section. I do recall in the final miles seeing a massive uphill on a residential road ahead of me, and groaning inwardly at the sight, only to have a teenaged volunteer direct me to veer left onto a flat side street. I almost wept in gratitude, I couldn't have imagined taking a wrong turn on such a steep uphill, thank goodness he was paying attention!
The finish line couldn't have come sooner. The crowds were next to nothing at this point, as most runners had finished, but those who stayed still applauded and cheered with gusto.  It felt great to have the announcer say my name, hometown and state; in fact, I was the only full marathoner from PA and felt a little proud to represent.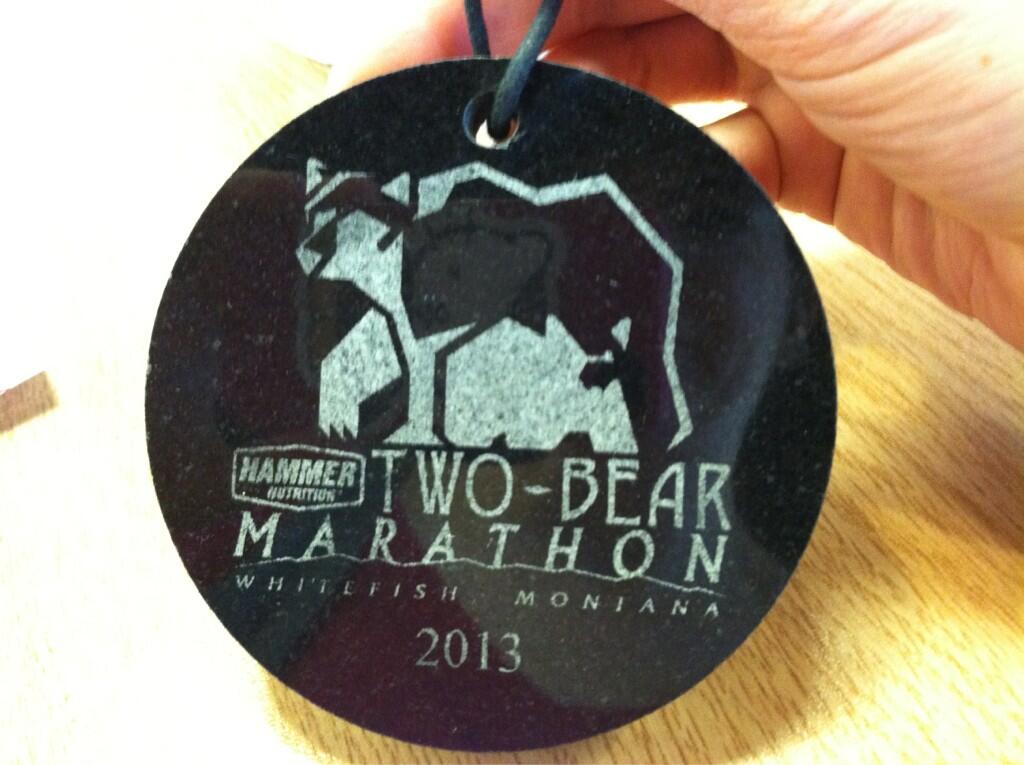 The medal was awesome too, a polished black granite disc with the logo etched on it hanging from a leather strap, and it weighed close to a half a pound. I think it is by far one of the most unique medals I have received, and even Chris marveled at how substantial it was. "WOW, that's quite a medal!" he beamed.  I could do nothing more but smile and nod…it felt so good to finally be finished and know I had a hot shower to look forward to within minutes.
I have run 16 marathons to date, and this one was one for the books. I had my slowest finish time ever, 5:25. I was glad to not have finished dead last. I was so worried about my knee and if I had done some damage to it, getting in and out of our rental vehicle (did NOT help matters that it was a Dodge Durango) was excruciating and I could barely walk. The rest of the week my quads were so incredibly sore above and beyond anything I had felt from Hatfield-McCoy, and it took well over a week to recover from muscle soreness alone.
But in the end, I did it. I earned a new state. My knee recovered within 24 hours. The soreness subsided. I can look back on my accomplishment with pride and think that I never quit, never cried or got upset, never got angry. I simply finished, earned my medal with a smile, and know that the experience will make me more resilient to tough challenges. My next race will be nothing compared to Montana, and I know I'll be ready for it, stronger than ever.
How did it stack up to other marathons I ran?

The EXPO: The expo was more of a packet pick-up with a single Hammergel table letting runners sample their wares. The shirt was great quality and a perfect fit, thank goodness, since they didn't allow size exchange. With a race that size, I don't expect that anyway. There were two separate lines for the half and full, which made it well-organized and quick for the full marathoners. I didn't even have to deal with a line.  The only downside was that the packet pick-up was in a gymnasium of a local fitness club. The expo was on one side of the gym, and the other side sounded like a group of children were having a screaming contest to see who could come up with the most high-pitched, annoying scream possible. It made packet pick-up swift with little delay. I only wish that the club had considered that could be a major deterrent to the runners. It was near impossible to ask questions of anyone, as all you could hear were high-pitched shrieks and screams that drowned out anything on our side. I promise I am not trying to sound like Gru from Despicable Me…cranky and crabby. But I wasn't alone in my sentiment.
Support: The volunteers were incredible and get top marks across the board. They always wanted to keep track of your number to make sure you were staying on course and to ensure that we all finished, they happily filled bottles, provided any fuel or fluids you needed, and asked over and over how you felt, if you needed anything, and offered lots of cheerful words of encouragement. The volunteers ranged from grade school kids to seniors, and all were equally amazing. Made you feel really good knowing they cared and wanted to make sure your needs were met, and they always let you know what to expect in the coming miles. Plus there was no lack of water, energy drinks, Hammergel, cut bananas, orange slices and pretzels. You didn't even need to carry gels for this one. The only downside is porta johns are non-existent more or less until you get to the paved section of trail, so you either have to hold on or let go of your pride and go for it in the woods!
Spectators: Mother Nature and her entourage are the only spectators beyond the volunteers in the trail section. There were also two girls in bear costumes there to cheer us on. I tried to pose for a photo opp, but my camera battery died early, which was a huge bummer. I will say they were ADORABLE and made my morning. Once you get to the road section, again you pretty much see volunteers and very, very few spectators. Don't come to this race and even expect spectators of Hatfield-McCoy proportions…because even that is asking for a lot.
Finish Line Fare: As a celiac, and an exhausted one at that, I barely looked, but there was a beer truck and a pub stand that provided free pulled pork sandwiches and cole slaw. Beer always sounds good at the finish line, and thankfully Chris had a couple cold Angry Orchards waiting for me! I didn't see much else, but was thankful to at least be handed a cold water by a sweet little girl that volunteered at the finish line. It was all I even needed at the time.
Swag: Awesome medal, one of the most unique ones I ever received, and a wonderful long sleeved grey tech shirt with the Two Bear logo and it actually FIT. The bag also had some Hammer samples, such as electrolyte tablets, and wasn't overly loaded with a lot of excess waste, and for that I am always grateful, actually.
In the end, though it was a very tough race for this inexperienced flat-lander, I can look back upon it with many, many fond memories, and would highly recommend Two Bear to anyone who wants to truly experience Montana at its most challenging. It was well-worth the trip!