New Jersey was an easy state to snag since it was somewhat close to home; it's an easy weekend getaway without too much fuss. The Atlantic City marathon took place four weeks after my disastrous Montana marathon, and while my recovery was slow at first (it took me several DAYS to finally walk down steps without pain), my last long run of 15 miles felt promising. I felt confident I would finish and hopefully wouldn't have any mishaps. Things like muscles cramps and knee pain are very unpredictable for me and can vary from race to race.
The weather the week of the race was tricky, and the forecast was constantly changing. Tropical Storm Karen had hit the Gulf Coast and we ended up getting the remnants of it by the end of that week. After six weeks of gorgeous and perfect weather, we finally got our due (and honestly, we needed it…running past completely dry creek beds just made me a twinge of sadness) and it rained buckets for two days.
The weekend forecast for Sunday's race seemed iffy: there was a 30% chance of rain, and no doubt it would be windy since we would be running along the boardwalk. But for this weekend it definitely kicked up a notch and we definitely had some uphill battles to face on a "flat and fast course". Chicago's marathon was the same day as Atlantic City's, and all I could think was that the Windy City would be HERE in New Jersey.
We managed to get to AC with 45 minutes to spare before packet pick-up at Caesar's Casino closed  that Saturday (there was no race morning pick-up, so it was definitely a you-snooze-you-lose scenario). We lamented the $20.00 price tag to park, it was highly annoying to think we'd have to pay $20 to get in and out in less than a half hour. We scrambled to find the Ballroom where the expo was held and luckily found it with ease after traversing the smoke-filled casino. I barely had time to even check out the expo itself, I just wanted to get my number, shirt, and get out of there.
I was happy to see that at packet pick-up we received two vouchers for $5.00 parking at the casino for race weekend. Talk about relief! The shirt was also very good quality and fit perfectly. I always love when they make men's and women's sizes, makes the biggest difference when you get a small. Men's small is still huge on me. Afterwards we explored what we could of the area, but it was pouring rain and we didn't want to hit the boardwalk or explore any outdoor areas since we were completely without rain gear and umbrellas. We managed to get ourselves dinner and settled in fairly early, which is ideal to attempt a good night's rest.
AC Skyline – Bob Krist
Race morning I woke up feeling completely overwhelmed. My stomach was a mess, as I had been having some pretty severe GI issues in the past week, and the forecast looked somewhat grim. While rain wasn't a concern, the wind definitely was: wind speeds were 16-24 mph with gusts up to 35 mph until that afternoon. Ugh. I actually shed a few tears just wanting to drop out of the entire thing but Chris pulled me together; he said "You'll do great, you always do! It'll be an adventure! It might not be your best race, but you'll have plenty of stories to tell when it's over." That Chris, seriously my biggest fan and motivator. Ever! He never, ever lets me down.
We accidentally ended up taking a different way from our hotel in Egg Harbor Township and were seriously hustling to get to the starting area. The road we took had a red light every 5 feet it seemed, and in the end he managed to drop me off with just a minute or two to jump into the starting area while he parked. I stood way in the back and had absolutely no idea when the race even began. In my haste I had completely forgotten to pack a watch, and it would be my first marathon I ran without one. Talk about a major rookie mistake! In part though, it kind of made me feel less pressure, and I didn't even care when I finished. I just knew I needed to finish in one piece. Starting from the very back I had to slowly work my way towards a pace group I felt compatible with…while I never ran with a pace group and had no intention to start, it at least helped me gauge how I was doing since I didn't have a watch. Chris said that is usually how he can tell when to start looking for me at the finish line. Once the 4 hour pace group goes through, I'm usually not too far behind. That's why he was so panicked when I took so long to finish Montana's marathon…finishing at 5:28 is unheard of for me, and I think he feared the worst had happened.
As the race began I was happy to see I felt pretty good. The weather was cool and overcast, and the wind was kicking up a little but a lot of it was at our backs in the early miles. The initial start on the boardwalk was very pleasant, I actually loved running on the boardwalk because it was a flat, softer surface with zero camber. This factor makes a huge difference from road races I think. I crossed the 5k point at 27 minutes and felt pretty good about my conservative, conversational pace. We hit a few overpasses in the beginning miles, so the hills were knocked out pretty early. I also found it fun to run through a long tunnel, though it felt maybe 15-20 degrees warmer!
I met several runners throughout the early miles, and everyone was super friendly, cheerful and chatty. We only got hit by a couple wind gusts and just laughed it off, as a lot of it was still helping push us forward. One guy I met was running his very first marathon and had a lot of questions, especially about hitting the wall. I discovered later the furthest distance he had ever run was 13.1 miles. Oh boy. Well, I guess he will just have to learn the hard way that the distance is one not to take lightly. I never got his name, but we were fast friends for at least half the race until I finally lost him around Mile 18. I wish I did get his name, I would have loved to see how he finished.
I met several Maniacs and a couple people who were running on their birthday. I absolutely love this! What a better way to spend a birthday than getting up and running a marathon, only to be amply rewarded with a medal and lots of finish line goodies? Yes, I realize only a crazy runner would think this!
We hit the boardwalk area around Mile 8 and noticed the wind was still strong, but pushing us forward gently. Chris was along the boardwalk taking pictures and waving and I felt a swell of happiness that I was able to assure him I still felt good. To top it off, I felt a definite burst of energy when I snagged a Power Gel at Mile 9.5…until then we couldn't find Gels if our lives depended on it (it was getting to the point where some of us were getting cranky), and I usually try to take in my first gel around mile 6 or 7. The course description made it seem like there would be more water stops and gel stops then we knew how to handle, so I never bothered to pack any gels or bring my Nathan. Since quite a bit of the course involved out and backs, we passed the same tables.
Once the halfers turned around to go back to the finish line at Bally's, we ran along the windy boardwalk and noticed the crowds had thinned substantially, the sun was out, and the winds were fiercely kicking sand into our faces. But it was still not too fierce, it was more shoving us to the side. We turned right off the boardwalk and this is when things really started to get dicey and more difficult.
There was a lot of out and back on this course. What made it hard, for one, is that there was really no etiquette as to people coming back, the road wasn't divided into two lanes for the faster runners to pass the slow, so we pretty much did our best to keep on the proper sides…but it could definitely cause a little backup and confusion at water stops, not to mention mile markers! I saw Mile 16 before Mile 15 and thought, blessedly, I passed 15 without noticing it, but nope, it was simply further out because there was a turnaround. Also, the wind was definitely gusting hard and taking its toll on the runners. It never ceased, and there was no refuge from it whatsoever. If you were heading west, it helped to nudge you along or maybe pushed you to the side, but if you were running east, it was like trying to push through a brick wall at times. The gusts got up to 35 mph and there were times where I felt as if I was running in place on a treadmill. Never had I run in windy conditions like this for such a long distance. I was used to maybe 15-20 mph winds during training runs, but oftentimes you could be somewhat shielded by the hills and trees along the trails. In this race you were simply out in the open with little to help soften the blow. Sometimes it even seemed as if the wind couldn't even make up its mind, and I was pushed back, to the side, and then forward in a matter of a few seconds, like I was caught in a mini tornado. I laughed incredulously when this happened, it was almost too ridiculous to be true.
My one thing I was very, very proud of was that I never walked (unless it was through water stops). All the people who passed me in the beginning miles were suddenly starting to walk. People that passed me miles ago and were nowhere to be seen ahead were trudged along angrily as I passed. I think the wind really did a lot of people in during the final 5-6 miles along the boardwalk. By that point the wind was fierce and relentless, sand was getting whipped into my face and even in my eyes. I simply turned up my headphones, searched for an ass-kicking sing (like Foo Fighters' White Limo) and mentally pushed…hard. I didn't quit, instead I grit my teeth and soldiered on.
I knew the finish line was at Bally's casino, and it could be seen like a shining oasis in the distance. The visibility made it VERY deceiving though…while it looked like the finish was in sight by a mere mile or so, I still had several miles to go. The boardwalk was also open to the public, so we had to navigate around the sightseers, walkers, gamblers and tourists as we headed east toward the finish. I honestly don't even think that most people realized there was a race going on that day!
I realized as I ran toward the finish that I actually felt GOOD. No knee pain, no muscle cramps, just a little hip flexor soreness and some soreness in my feet and toes, but otherwise I felt strong and was so relieved to see that the end was in sight. All I could keep my sights focused on was Bally's and Trump Tower, and KNEW the finish was within reach. As we pushed against the strong wind gusts the crowds started to thicken with spectators and encouraging cheers. All I could do was smile, wave and thank everyone. Ordinarily I would cheerlead for other runners as I passed, but I was too exhausted to do much else. Chris stood waiting just before Mile 26 and I could tell he was SO proud. I think I surprised myself even that I didn't totally give up!
The finish line seemed so far away even at Mile 26, but all I could think to myself was one step more, another step, another….I just had to keep moving, keep pushing. I never did a full on sprint as I sometimes had seen others do in a final surge of energy. I didn't need to finish ahead of anyone else. I simply wanted to finish, and that was my ultimate reward. Once I crossed the finish I staggered to a volunteer to get my medal, and slowly kept moving.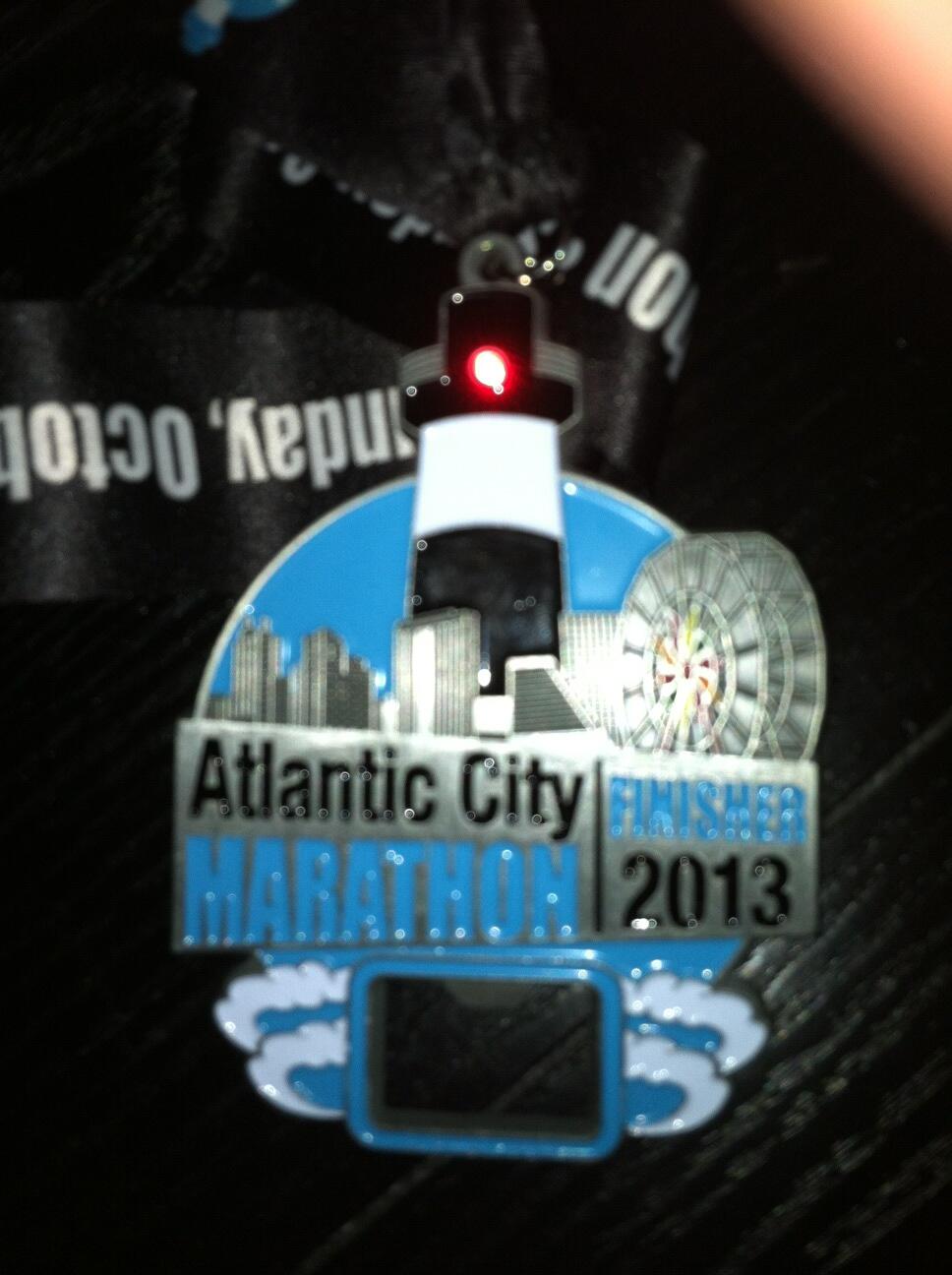 The medal has a real blinking light in the lighthouse! Not to mention a bottle opener! Perfect for all occasions.
I remember in the final couple miles there was a girl in pink that was loping ahead of me, then I would pass her, and we sort of played an unspoken game of Catch Me if You Can. In the end, she finished ahead of me by less than a minute, but enthusiastically said to me "Great race!" with a grin. All I could think to myself was "I was really never racing anyone", but honestly, maybe for some reason it helped push her to have someone to focus on defeating. It was fine by me, as I had never had any expectations anyway. We chatted for a minute while loading up on fluids, both in agreement that the wind really killed any time expectations, but it kept my spirits soaring. I had done it, and couldn't be prouder that I finished in 4:12, a 9:37 minute-mile.
After a long and tough race, I was amply rewarded with more fluids than I could consume, and grabbed a couple Rita's water ices at the finish tent.  I cannot even describe how good that water ice tasted. I needed nothing more than that to get me through that very moment. The sun was shining, the day wasn't even halfway over yet, and all felt so RIGHT in that very moment in time. I won't say it was my favorite marathon or my best finish time, but I will say it was definitely a successful one. I am very proud of my accomplishment that day, and hopefully can have an even stronger finish at my next race.
My Race Results
Finish Time: 4:12 (9:37 minute mile)
Race Place: 300/825
Gender Place: 102/369
Age Place:33/119
What I learned
NEVER EVER doubt yourself! I was literally in tears race morning thinking there was no way I would ever finish, and in the end I did better than I expected. I stayed steady, made sure I had plenty of fuel in the tank, and had FUN. It was a great time!
So here are my states conquered so far. Slowly but surely you can see I am making progress, and soon will have to head west a LOT more!