This weekend marks the start of my Triple Crown of Insanity: I have a 50k, a 12-hour endurance race, and a marathon all within 14 days. I'm sure some race recaps are coming for those, but I need to go back a few weeks to review my most recent marathon accomplishment, which is my 24th full marathon state: Iowa.
Chris and I LOVE the Midwest. So many people ask "Why the hell go to Iowa?" and we say ""Why NOT?" It's beautiful, full of a lot of very awesome, down-to-earth people, great bars and eateries, and is just the kind of place we could see ourselves settling down if the weather wasn't worse in the winter than it is back home.
So September 12 I ran the Wabash Trace Nature Trail Marathon, which was fantastic. Very small race, awesome people, beautiful course, and cornfields as far as the eye could see. It started in a small town about 2 hours west of Des Moines called Malvern, and finished in Shenendoah. The Wabash Trace Nature trail is a 63 mile rail trail, surrounded by trees on a nicely packed dirt and fine gravel trail; it was much like some of the trails I run back home, so it was perfect for my needs.
I won't spend too much time talking about the race, only because it seriously felt like one straight line start to finish, a small section the the course was on paved road, but most was on the nature trail. I'll let some of the pics do the talking for me. This was one of the first races where I brought a Camelbak so I could take pictures along the way, and I'm so glad I did. I definitely wasted a lot of time stopping and taking pictures for sure!
Here are some views of the race, and these are only a few pics that I took along the way, but as you can see, it was rural, quiet and ABSOLUTELY beautiful.
Some shaky cam pics.
LOTS of beautiful bridges during this race!
One of my favorite shots, this REALLY captured the spirit of the race I think!
If I wasn't seeing cornfields, I was seeing silos.
All I kept thinking (in the tempo of Cha Cha Slide): COoooorn to the LEFT! Cooooorn to the RIGHT!
I know I mentioned this was a marathon of firsts, well here's the first one: The course was very well-manned with awesome support stations from start to finish. I brought my Camelbak only to load it with food and kept the water bladder empty because there were WAY too many water stops. But Mile 20 had, wait for it:
A BACON STOP! I was so excited. I wasted WAY too much time at this stop, but probably had three pieces of crispy, awesome bacon. Never in my life did I have bacon during a race, but it was good practice for a race to come (which I will get into in another entry!).
I felt like I ran a LOT of this race alone. I made a couple buddies along the way and ran with them for several miles, but I know when I approached the support stops I felt like I was totally alone, and felt like I was in last place, which was definitely not the case, but it can FEEL that way when you run a small race.
By this point I was READY to see that finish line.
So after a LOT of picture taking and time wasted at the bacon stops (sigh), I finished my race in 4:11, and TRUST ME, I know I probably could have run a sub-4 that day because it really was a great course. But get this, it was surprisingly hilly! Check this out!
Image courtesy of Race Navigator.com
So I mentioned that this was a race of firsts. Well here is my SECOND first: Despite my time I won FIRST in my age group! WHUT?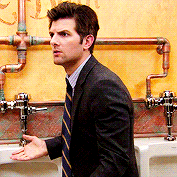 Image courtesy of giphy.com
Granted, it was a small race, there were only FIVE in my age group, but whatevs, I got first place and it was so exciting! I was also 8th overall female. Hey, and this is without even TRYING, so I was really stoked. I won a gift certificate that could be used at any store in Shenendoah, so what did we do with it? Bought beer of course! In hindsight I probably could have been a little smarter with my winnings, but at the time it seemed right.
What other souvenir can one take from Iowa but a stuffed corn cob?
So that was my marathon adventure in Iowa, and I really loved it. We can't wait to return to the Midwest, and I think we are definitely heading to Minnesota next year, as well as the Dakotas, so I'm sure I will have plenty more awesome pics to share with you!
My 50k is tomorrow and thank God Hurricane Joachin decided to piss off and help things dry out a little for my event. It will undoubtedly be a complete and total mudfest, but I am DETERMINED to earn the title of ultra runner, even if it takes me a LOT longer than planned due to the course. Wish me luck, and take care!